Esplanade, Theatres on the Bay
The Esplanade - Theatres on the Bay is a Singapore icon. It's the Asian equivalent of the Sydney Opera House.
When it was inaugurated in 2002 at a cost of 600 million dollars, the Esplanade Theatre was a break from the until-then conservative style of architecture in the city.
The theatre is made up of two large halls: a 2,000 seat theatre and a concert hall which fits 1,600. And around these halls are various smaller studios, an outdoor theatre, and a shopping centre.
It is currently one of the best-regarded artistic centres in the world. You can see its program and buy tickets on the official website.
Architecture
The theatre is formed of two enormous domes, made up of more than 7,000 aluminum panels. The panels are positioned in different directions to ensure the best natural illumination possible - and at night they shine with the interior lights.
A fun fact is that, thanks to its shape, the locals have taken to naming the theatre the "durian" - after the famous (and smelly) local fruit.
Best views of Singapore
Both from the Esplanade shopping centre, and from the promenade where the theatre is found, the views of Marina Bay are spectacular.
As well as being the best place to take a magnificent photo of the skyline, it's a great spot to take a night time stroll, and enjoy the lights of the city.
IF you want to complete your evening, what better way to do so than by climbing aboard the Singapore Flyer?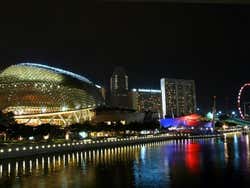 Transport
MRT: City Hall, green and red lines. The stop is a 10 minute walk away.
Bus: 36, 56, 75, 70, 77, 97, 106, 111, 133, 162, 171, 174M, 195, 502, 700A, 857, 960, 961, NR1, NR2, NR5, NR6, NR7 and NR8.