Jurong Bird Park is home to magnificent specimens from all over the world, including some which are critically endangered.
With more than 20 hectares, where more than 5,000 birds of 380 different species live, Jurong Bird Park is the largest in the world.
Main Attractions
The park has a variety of exhibits, where you can see a range of stunning birds. Here are some of the most interesting attractions:
Birds n Buddies Show: a show filled with highly talented birds, such as the cockatoo. Always a surprise around the corner!
Birds of Prey Show: eagles, falcons and other birds of prey show you how they hunt.
African Waterfall Aviary: more than 1,500 birds of 50 different species fly around the world's largest aviary.
Flightless Birds: cassowaries, ostriches, and emus. They might not fly, but they still find their home in the park.
World of Darkness: a nocturnal journey by the light of the stars invites you to discover the different birds that come out at night, such as owls and nocturnal herons.
Getting to Jurong Bird Park
Although it's possible to get there using the urban buses, they take a long time, meaning the best way to get there is by taxi or by taking a bus direct from Bus Hub
The bus connects the centre of the city with the park, and costs 7 SGD (US$ 5.20) per journey.
Interesting, but not like the zoo
The park is a great place to discover birds from all over the world, and it's great for kids, or bird lovers. But if you've not got that long to spend in the city, we think you'll prefer the zoo, which has a huge range of animals, and some birds too.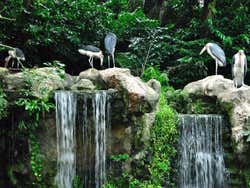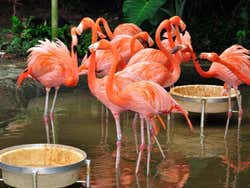 Schedule
Daily from 8:30 am to 6 pm.
Price
Adults: 30 SGD (US$ 22.20).
Children from 3 to 12: 20 SGD (US$ 14.80).
Transport
Taxi.
Bus Hub shuttle.