The Singapore Flyer is a 165 metre tall ferris wheel, offering the very best views of Singapore!
Opened to the public on the 1st of March 2008, this ferris wheel became the largest in the world, beating the Star of Nanchang (in China) by a mere 5 metres. The central wheel of the Singapore Flyer measures 150 m in diameter and has 28 cabins, each one with space for 28 people. It was the tallest in the world until 2014, when the Las Vegas High Roller beat it.
Over the 30 minute ride, you can see the most interesting sights in Singapore, and even neighbouring countries such as Malaysia and Indonesia, if the weather is good.
A Luxury Box
If you visit Singapore during the F1 Grand Prix, then the circuit passes just below the wheel itself. What better day to take a spin than on the day of the race?
The Best Views of Singapore
Although the views from the ferris wheel are similar to those from Mout Faber, the views of the bay from the sea are better than those from further inland.
This is an absolute must-see! The only question is: by day or night?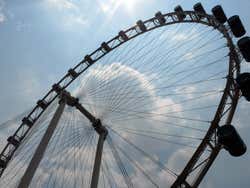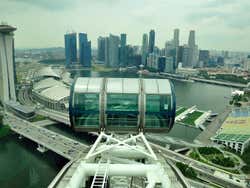 Schedule
Daily, 8:30 am - 10:30 pm
Price
General: 33 SGD (US$ 24.40)
Over 60s: 24 SGD (US$ 17.80)
Children 3-12: 21 SGD (US$ 15.60)
Children under 3: Free
Singapore Flyer Ticket 41.11 SGD (US$ 30.50)
Transport
MRT: City Hall, green and red lines (10-15 min walk from the station)
Bus: líneas 111, 106 or 133