The Singapore Night Safari is one of the main attractions in the city, and its inauguration in 1994 meant a new way to see the animals of the region up close.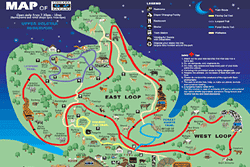 Night Safari Map
The Night Safari is not just an illuminated zoo, nor just another night area in a normal zoo. This attraction is a 40-hectare natural environment, which offers its visitors the opportunity to see the jungle wildlife of the area as the sun sets.
The tour takes place both by foot and by tram - 'Jurassic Park' style. And as well as the animals themselves, there are a variety of different shows that are well worth your while, especially "Night Creatures".
There are two different kinds of ticket: walking or tram. You should get the tram ticket, as there are many parts of the park which are inaccessible by foot.
Species
The creation of the Night Safari came about because 90% of tropical animals are nocturnal, and most active once the sun sets.
In the park you can see more than 1,000 animals of 100 different species, and the most memorable parts of the park are the bat grotto (the bats are loose, careful, they might even perch on you!), the flying squirrel area and of course the Malay tigers.
In Our Opinion
The Night Safari is fun and different, but if you're only going to be a night or two in Singapore, we recommend drinking in the atmosphere of the city. However, if you're around for longer, it's a great option.
Another point in favour, is that it's right next to the Singapore Zoo, so if you're an animal lover, you can combine both!
Getting There
If you want to make your own wat there, the best move is to forget the local buses and take a taxi or the direct bus from Bus Hub.
The price of this bus is about 7 SGD (US$ 5.30) per journey, and per person. It leaves Singapore at 6 pm, 7 pm, and  8 pm. You can see the schedule and stops on the company website.
The price of a taxi is between 18 SGD (US$ 13.50) and 28 SGD (US$ 21), depending on the time. The journey takes 20-30 minutes.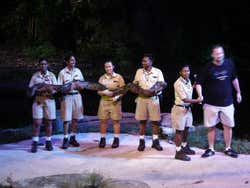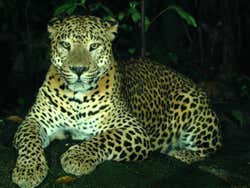 Schedule
Every day from 7:30 pm to midnight.
Stores and restaurants open at 5:30 pm for people coming directly from the zoo.
Price
Adults: 49 SGD (US$ 36.70)
Children 3-12: 33 SGD (US$ 24.70)
Children under 3: Free