There are a variety of airlines that fly to Singapore, and it's a common place for a layover when travelling to countries like Australia and China.
From the UK
If you're flying from the UK, the airlines that operate direct flights tend to be Singapore Airlines and British Airways - most of these being from London, although you can sometimes find a direct flight from another location. If you don't mind making a layover (many of these layovers being in Dubai, or close) then you have a much wider range of options. KLM, Emirates, Qatar Airways and Etihad all operate.
Price, of course, depends on when you book the flight, but it is possible to find a return flight for under £ 500 (US$ 618.10), if you're willing to be flexible.
From the USA
Flights from the USA can cost as little as US$ 500 return, if you book in advance. Direct flights are available from Los Angeles, San Francisco and New York, but from the majority of cities flights require a layover. Among the most common airlines to operate to Singapore are China Airlines, United, Eva Air and Philippine Airlines.
From Australia
Flights from Australia to Singapore are frequent and cheap, from as little as 270AUS. Flights are operated by Airasia, Singapore Airlines, Emirates and more.
From Asia
If you're travelling around Asia, and want to visit Singapore, there are various low cost airlines which run low cost routes from Thailand, Vietnam, or Indonesia.
The cheapest airlines are:
Air Asia: connecting Singapore with major cities in Malaysia, Thailand and Indonesia. Normally a good
Jet Star: Jet Star is one of the most popular low cost companies in Singapore. They have regular flights from Hong Kong, Bangkok, Macao, Kuala Lumpur, Hanoi, Manila and more
Tiger Airways: a Singapore airline that, just like Jet Star, flies to the main cities of China, Thailand, Vietnam, Philippines, Indonesia and more.
Lion Air: flies to Indonesia's main cities.
Top tip: if you don't reserve ahead of time, and the price of a flight seems excessive, from Kuala Lumpur you can get to Singapore by land. 
Cheap Flight Search Engine
Cheap flight search engine - try our offers search engine.
Airport Information
In the following section you can find more information about the airport and how to get to Singapore from there.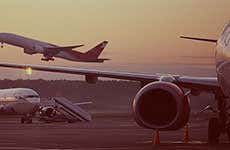 The Singapore airport is one of the most modern and cleanest in the world. Find out how to get to Singapore from the airport.