One of the best places to admire Singapore in all its glory is the Merlion Park. Discover this obligatory visit.
En este parque, bajo los rascacielos de la bahía y junto a la orilla del mar, es donde se encuentra la estatua más conocida de Merlion, el símbolo de Singapur.
In this park, below the skyscrapers of the bay and on the seashore, is where you can find the famous Merlion statue, the symbol of Singapore
Merlion
Half fish and half-lion, the Merlion is the image of Singapore, one that you'll find throughout the city. IT was designed in 1964 as the image of the Singapore tourism ministry.
The head of the lion represents the lion the prince Sang Nila Utama discovered ion the 11th century. The fishtail represents the fishing past of the city, when it was still known as Temasek. When Sang Nila arrived in Singapore, he changed the name of Temasek for Singapura (Lion City - Singa means lion and Pura, city).
The Park
In the park you can find two Merlion statues, one big, one small. The large statue is also a fountain that spits water, and is the most famous of the two.
Alongside the large statue (8.6 metres tall and 70 tonnes in weight) tourists always stop to take one of the most typical photos in Singapore. Few are the travellers that don't take a photo back home with them, below the water flowing from this curious feline.
Better by night
The best time the visit the Merlion park is when night falls. The image of the skyscrapers of the city lit up, with the Merlion in front is the image that will come back to you every time you think of the city.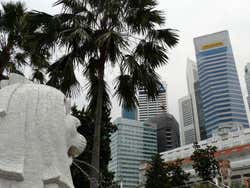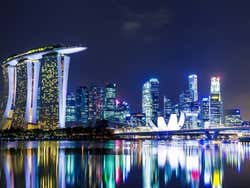 Transport
MRT: Raffles Place (Green and Red lines).