Chinatown is the centre of Singapore's Chinese community, the legacy of the first Chinese colonies which lived in Singapore
Singapore's Chinatown came about in 1821, when the first junk coming from Xiamen arrived in the port. The passengers, all men, took up residence to the south of the river, in an area today known as Telok Ayer.
As with the rest of Singapore, Chinatown is known for its cultural mix. There are very few cities in which you can see two mosques and a hindu temple in the heart of the Chinese district.
Chinatown can be divided into four smaller districts, outlined by Chuch St., New Bridge Rd., Maxwell Rd. and Cecil St.
What to see in Chinatown
In Chinatown you'll find the Chinatown Heritage Centre,  a three floor museum which tells the story of the lives of the first Chinese inhabitants.
As well as the museum, you shouldn't miss the Al Abrar Mosque (on Telok Ayer St.), the Jamae Mosque and the Sri Mariamman Temple  (South Bridge Road). This last temple was built in 1827, and was the first Hindu temple in Singapore. And the shops selling clothes and artisanal wares are perfect for a bit of souvenir shopping.
Great for lunch
As in most Chinatowns around the world, if there's anything that stands out as well as the shops, it's the Chinese restaurants. The prices are reasonable, and the quality great!
Unmissable
Chinatown is an unmissable sight in Singapore. The architecture, atmosphere, restaurants and shops were some of our favourite memories of the city.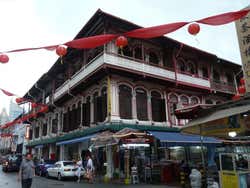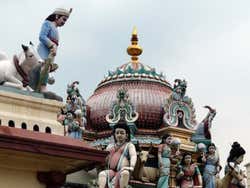 Transport
MRT: Chinatown (brown line).