The MRT (Mass Rapid Transit) network is efficient, modern, and can take you to practically every point of interest in the city.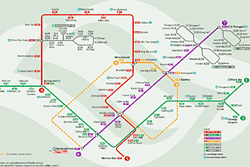 MRT Singapore map
One thing that surprises about the city is the atmosphere and life that abounds beneath the city. Some stations are enormous, and have shops, restaurants and more!
Unlike in many other cities, having a shop in the metro station is a great location!
Lines
The MRT has five lines
NS (North-South Line, Red): from Marina Bay to Jurong East.
EW (East-West Line, Green) goes from the Changi Airport to Tuas Link. It takes 27 mins from the airport to the centre.
NE (North-East Line, Brown): Connects HarbourFront (the stop if you want to go to Sentosa) and Punggol.
CC (Circle Line, Yellow): Connects HarbourFront and Marina Bay.
DTL (Downtown Line, Blue): Connects Bukit Panjang, in the northeast, and Expo, to the east.
No Durians Please
Something that's sure to surprise are the restrictions on the MRT. On the metro you can't smoke, eat, drink, bring on board flammable substances or (the cherry on the cake) durian fruit.
These are local fruits which, although tasty, smell terrible! And as well as on the metro, they're banned from hotels.
Schedule
The metro runs from 5:30 am to 12:30 am. The frequency varies from 2 to 8 minutes depending on the line and the time of day.
Price
The price of the Singapore MRT depends on the distance travelled. It varies between 1.50 SGD (US$ 1.10) and 2.50 SGD (US$ 1.80) per journey.
If you want to save on transport, the best option is the EZ-Link card or the Singapore Tourist Pass.